Laurent Doumont is a saxophone player, singer & songwriter from Brussels with a natural inclination for soul and jazz. In the 90's he took part in Michel Hatzigeorgiou's tribute to Jaco Pastorius. Around that time, Laurent began a career as a free lance musician, playing in several funk and jazz bands, including some gigs with Fred Wesley.
In 1999, in order to improve his musical skills and culture, he moved to New York, where he took some classes with Chris Potter. He eventually spent two years there, playing and hanging out in jam sessions. When he came back, he played with Boney M, The Gibson Brothers and George Mc Crae during the "Disco Night Fever" tour. Together with Olivier Bodson and Alain Palizeul, he seized that opportunity to found a horn section which became one the most sought after in Belgium and abroad. Later, a few concerts with Percy Sledge and a musical meeting with James Brown would top their résumé.
Laurent is proud to have been a member of Daniel Romeo's band from 1999 to 2008, playing the saxophone, writing horns parts, song lyrics and occasionally singing.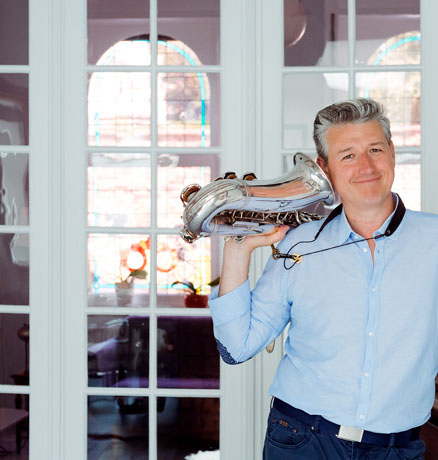 From 2003 to 2005 he took part in the "Improsessions", an improvised interactive music show based on standard songs played in different styles with improvised lyrics.
Laurent Doumont is now co-leading and playing in "The Heavy Muffulettas", a rejoicing New Orleans band with bluesman Marc Lelangue and Patrick Dorcean.
As a matter of fact, the most important part of Laurent Doumont's work takes place as a leader. He has been leading his own band since 1998, in various formations from quartet to septet featuring musicians such as Daniel Romeo, Adrien Verderame, Patrick Deltenre, Vincent Bruyninckx, Bert Gielen, Bilou Doneux and Oti Van der Werf, joined later by Pali and Olivier, his fellow blowers.
His first album "Soul Quintet" was released in 2001.
In 2012, he released his second personal album Papa Soul Talkin', produced by Daniel Romeo, featuring Vincent Bruyninckx, Sal La Rocca, Lionel Beuvens and many great guests. In this record, Laurent reveals his various skills as a musician, singer, songwriter and arranger.
More recently, he invited Sal La Rocca (db) and Patrick Deltenre (g) to join him in the Trio V.O. project, in which they play and sing American, French and Italian standards.
With his latest album, l'Americano, Laurent looks into his Sicilian descent through 12 great Italian standards form the 1950's & 60's, joyfully adapted in a soul-jazz and pop spirit. L'Americano, co-produced with Nicolas Fiszman and featuring Vincent Bruyninckx (k), Lorenzo Di Maio (g), Sam Gerstmans (b) and Adrien Verderame (d) among others, is out since March 21st 2019.
Papa Soul Talkin'
Released in november 2012. Produced by Daniel Romeo.
Written and arranged by Laurent Doumont.
Laurent Doumont sax & vocals,
Vincent Bruyninckx piano,
Sal La Rocca double bass, Lionel Beuvens drums,
Raf D Backer organ, Lorenzo Di Maio guitar,
Olivier Bodson trumpet, Alain Palizeul trombone,
Nina Babet, Chantal Kashala, Camile De Bruyne vocals.
Soul Quintet
Released in February 2000. Produced by Daniel Romeo.
Laurent Doumont sax & vocals, Patrick Deltenre guitar,
Bert Gielen keyboards, Oti Van der werf bass,
Bilou Doneux drums.
Laurent Doumont • l'Americano
This show is the live rendition of Laurent Doumont's new project l'Americano. This new Soul Quintet presents a repertoire of Italian standards from the 1950's & 60's joyfully adapted in the Soul-Jazz idiom. Close your eyes, you can almost hear the waves on the beaches of Capri…
Laurent Doumont • l'Americano Grande
This is the fully equipped deluxe version of Laurent Doumont - l'Americano, adding a B3 Hammond organ, a horn section and backing vocals to the original quintet. Let's bring that full and juicy sound from the album on to the stage !
Trio V.O.
The sweet and soft touch of a drumless trio, with crooning vocals on selected tunes. Sal La Rocca (b), Patrick Deltenre (g) and Laurent Doumont (sax & voc), explore the blue side of traditional standards, putting here and there surprises from the French and Italian repertoires. Swinging and nostalgic.
Alligator Boogaloo
Laurent has put that band together a long time ago and happily goes back to it from time to time. There's nothing like an organ quintet to play some vintage soul jazz. A tribute to Lou Donaldson.
The Heavy Muffulettas
Marc Lelangue's rejoicing New Orleans band has its own way to make you feel Louisiana to your core, bringing lots of fun to the funky tunes and an extra tear to the ballads. An everyday Mardi Gras, since 1998.